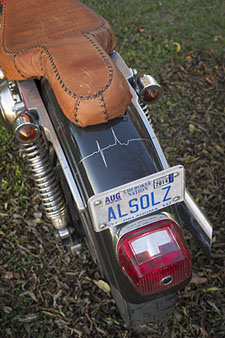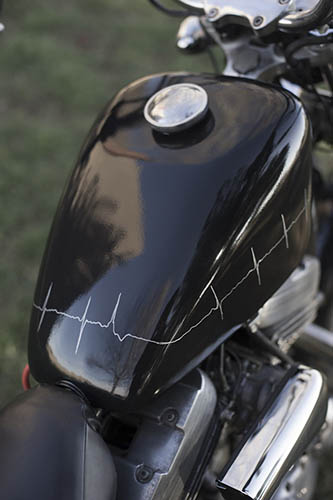 Most obviously, this is my paint job, sandblasting all the tins down to bear metal, then primer, then black lacquer.
The graphic on the tank; that's my EKG. In 2010 I had heart surgery (click here to see pictures of my heart). The tech gave me a print of my EKG, which I scanned, tweaked in Photoshop, and then projected on to the black-painted parts. I traced the line in silver paint and shot clear lacquer over the whole thing.

So yeah, that's my heartbeat. See the "up spike" that lacks a corresponding "down spike?" That's part of my problem.

I lowered the front fender to where it's almost touching the tire, then shaved the lower fork legs. Not having a lathe I did it by hand using a flap disc and hand file. While I had the front fork apart, I rebuild the hydraulics.
I built new "mid-controls" that are slightly forward of the factory controls.
I recontoured the handlebars. Went to smaller, tighter turn signals. Rewired the bike. Went to an RK "X-ring" chain. Upped the gearing by one tooth on
the countershaft sprocket. Just that one tooth lets the motor cruise with less buzzing, while not hurting acceleration.
Along with the very nonrestrictive exhaust pipes, is an early teardrop carburetor cover with no air filter to let the motor breath. Pulstar capacitor spark plugs ($30 for spark plugs!?) light the fire.
The Cherokee Nation license plate reads ALSOLZ. My church is the All Souls Unitarian Universalist Church in Tulsa, Oklahoma. I may be the only Unitarian biker on the planet.
My (current) bike is a 1986 Sportster. '86 is the first year Harley Davidson built the "Evo" motor that was a serious upgrade from the earlier "Iron Head" Sportsters.
It's 1100 cc's.

This is for me, the perfect year.
It's got modern electronic ignition,
but not the not-user-servicable
Electronic Fuel Injection or EPA
hassles of later bikes. No, it's not a showbike, it's a daily rider and it's
all mine.

I have done every modification that has been done to this bike, with the exception of the pipes, which were on it when I got it, and I liked them.

About 40 lbs of nonessentials have been removed from the bike, including the factory gauges, school-bus sized turn signals, mirrors, ham-can air filter, goofy forward controls, aftermarket sissybar, chain guard,etc. etc.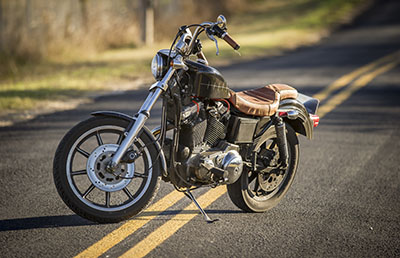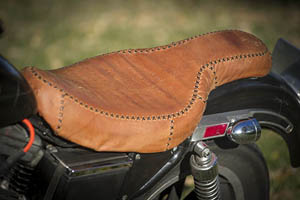 The super thick, couch-cushion-like seat had to go, so I trashed it. I built a cardboard template for a seat pan which I then recreated in fiberglass. Layered up three layers of foam rubber, then sculpted the foam with a flap disc to exactly the shape I wanted. Then I made a new seat cover in leather, hand lacing the pieces together.
Tooled into the seat is a quote from the Bible book of Job... in Latin. In the quote God says to Job; "Who are you to offer me counsel?" To which Job replies; "I had only heard of you, but now that I see you for myself, I understand..." I don't expect this to mean anything to you, but it isn't for you. Its for me. Its my way of keeping things in perspective. There is a God, and I'm not him.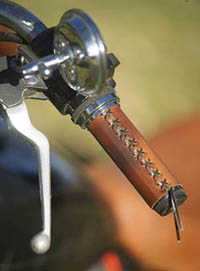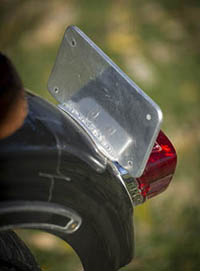 Leather scraps from the seat made the handgrips. The leather is getting a seasoned, weathered look that is just what I was after.
The license plate holder was made from thick aluminum plate and polished.
But of course, this is a work in progress. Next I hope to lower the rear shocks about 2 inches. I want to replace the large factory taillight with a "tombstone" taillight. I had one of those on my 1948 flathead and it was perfect.
And then I'm gonna....